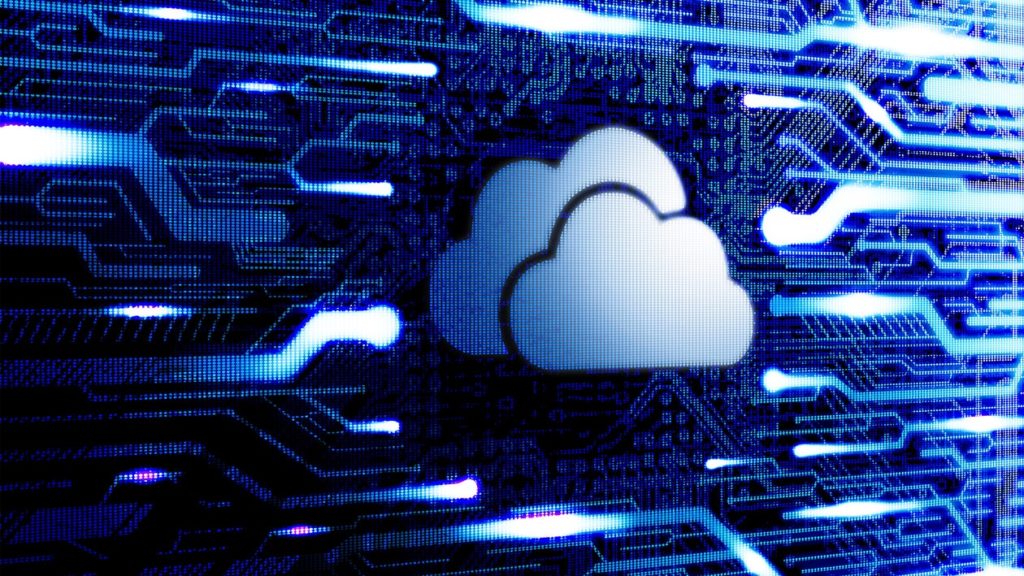 https://blog.seneca.it/wp-content/uploads/2020/06/Banner-Cloud.jpg
Cloud Computing was born in the early '60s of the twentieth century, when the U.S. computer scientist John McCarthy introduced the concept of "public utility" applied to Information Technology.
However, we must wait until the early 2000s, with the explosion of the Internet, to see the idea of Utility Computing mature into a technology in which computational resources are considered public and available, to the extent that they are used as for the provision of a service.
While in the consumer world Cloud Computing has followed the evolution of the Internet, in industry it has taken shape with the increase in the amount of production data and with the increase in automation devices and networked machinery. This scenario has led to an exponential increase in the demand for hardware for data storage, management and analysis. This has led to the emergence of Cloud technology whose benefits to end users include reduced hardware costs and secure access to production data to simplify decision making. The Cloud also opens up important opportunities for machine builders. The way data is delivered from machines to management and analysis systems is crucial for the integration of production plant equipment into modern IT infrastructures. The sharing of knowledge and skills between automation suppliers, machine builders and end users ensures a competitive advantage in the new production business models: IIoT/M2M, Industry 4.0, Smart Manufacturing, Smart Machine.
The Cloud Pyramid: IaaS, PaaS and SaaS
There are three main types of services that can be provided using Cloud infrastructures: SaaS (Software as a Service), PaaS (Platform as a Service) and IaaS (Infrastructure as a Service). Let's try to better understand what it is, starting from the tip of the pyramid.
SaaS is the most complete type of service. The end user does not need any computer knowledge to use the application or the services provided. In this case the user does not need to download or install any kind of file, but the services can be used simply with an internet connection and a browser. The main advantage is the possibility to use the services on any device and in any place. The use of the Saas model tends to reduce costs deriving from licensing, maintenance, updates. They also represent the state of the art in terms of computer security.
PaaS can be seen as a bridge platform between applications (SaaS) and the infrastructure part (IaaS). In this case, the service provider takes care of the hardware infrastructure, while the user has to install the operating system and develop its application. It should be stressed that this type of cloud is mainly dedicated to developers, who are looking for a development environment without having the burden of hardware management. The user in this case is faced with a flat solution and billing is, in most cases, periodic.
IaaS is the hardware infrastructure that underlies every cloud service. The provider offers virtual hardware (CPU, RAM, space and network cards) and therefore the flexibility of a physical infrastructure, without the burden for the user, of physical hardware management. This type is dedicated to system administrators or system administrators, who do not physically manage the structure but the instances to be activated, the network features and finally the resources to be used. Another important advantage is that the Cloud provider has an invoice based exclusively on time of use, without fixed fees in order to offer maximum flexibility.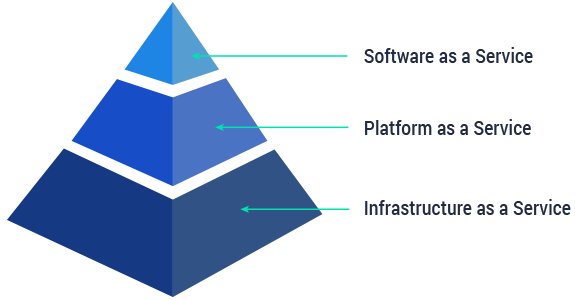 On Premise and Edge Computing Solutions
However, there are solid alternatives to the Cloud Pyramid. One is linked to software ownership and "on premise" solutions, i.e. "locally", which are not particularly advantageous from an economic and upgrade point of view. However, there is one benefit of on premise solutions: all data remains in the user's possession. While with Cloud solutions you transmit information to distant servers physically located within a data center outside your own property, with on premise software all data is stored on your servers. Therefore, those who adopt an on premise solution have full control over their data.
It is also worth mentioning Edge Computing, a recent evolution (and very valid alternative) in relation to Cloud solutions based on a distributed and open IT architecture, with decentralized processing power, designed for mobile computing and IoT technologies. In Edge Computing, data is processed by the device itself or by a local computer or server, instead of being transmitted to the data center: this reduces Internet bandwidth usage, eliminates costs and ensures effective use of applications in remote locations. In addition, the ability to process data without transferring it to the public cloud adds a useful level of security for sensitive data.
SENECA products supporting Cloud technologies
There are 12 SENECA products that support Cloud technology in the broadest sense. There is no universally valid solution. The chosen solution depends on the application and performance required and must therefore be carefully evaluated according to the user's needs.
IaaS / SaaS
On Premise / PaaS
On Premise / PaaS
IaaS
Third party cloud (i.e. AWS, Databoom, Rilheva, Wolkabout)
VPN BOX
CLOUD BOX
MYBOAT-CLOUD
Datalogger MYALARM SEAL, Z-LOGGER3,
Z-GPRS3, Z-UMTS, Z-LTE
X
–
X
–
IoT Gateways Z-PASS1, Z-PASS2
X
X
X
–
Controllers / RTU IEC 61131-3 Z-TWS4, Z-PASS2-S, S6001-RTU
X
x
–
–
Boat Monitoring MYBOAT, MYBOAT-WR
–
–
–
x
Third party cloud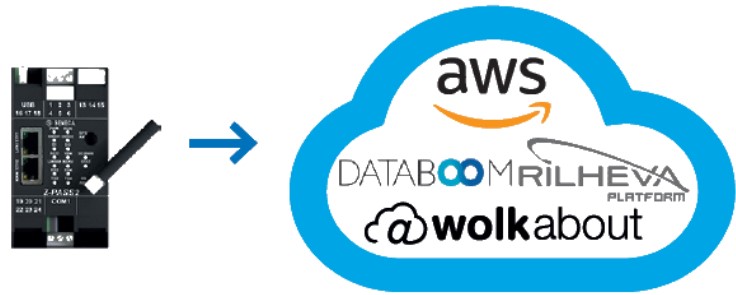 SENECA dataloggers, gateways and controllers can connect machines and industrial plants, and thousands of I/O in the field, to third party Cloud Computing platforms through IoT http/Mqtt protocols. This mechanism is based on the encoding of messages that make the Cloud platform is able to natively interpret the content of messages sent by SENECA controllers. It also ensures a certain degree of customization of messages to optimize the compatibility of data transmission with the destination Cloud. SENECA in particular has tested the platforms AWS (Amazon Web Services), Databoom, Rilheva, Wolkabout
| | | | | |
| --- | --- | --- | --- | --- |
| | AWS | Databoom | Rilheva | Wolkbout |
| Circulation | Worldwide, 2015 | Italy, Foreign Countries, 2017 | Italy, Foreign Countries, 2007 | Worldwide, 2017 |
| Available mode | Cloud | Cloud | Cloud, On Premise | Cloud, On Premise |
| Pricing | Public | Public | Reserved | Public |
| Platform management | User | User | Partially by user | User |
| Skill requests | High | Medium | High | Medium |
| Customization | Yes | Yes | Yes | Yes |
| Application | Not ready to use. A specialized System Integrator must tune customer specifications and complete the solution | General Purpose simple interface and use | Machinery, HVAC, Renewable Energy, Water treatment, KPI energy monitoring (Retail & Industry) | General Purpose simple interface and use |
| App mobile | No | No | Yes | Yes |
| Compatibile SENECA products | Datalogger 3G+/4G, Controllori, IoT Gateway | Datalogger, Controllori, IoT Gateway | Datalogger, Controllori, IoT Gateway | Controllori |
VPN BOX
An "On Premise" alternative provided by SENECA is the VPN BOX server, an "on premise" solution where all data remains in the user's possession. In the industrial sector, thanks to the use of VPN (Virtual Private Network) technology, decentralised Ethernet sub-networks containing automation and control equipment such as PLCs, inverters, HMIs, serial devices, sensors, actuators, etc. are connected.
VPN BOX is a server connectivity module compatible with SENECA devices with LET'S platform for Point-to-Point (remote assistance) or Single LAN (remote control) connections, with SSL and VPN security technologies that guarantee a personalized and secure access control.

CLOUD BOX
Another on premise solution is offered by Cloud BOX, Cloud – IoT solution to centralize data, manage remote connections, create customizable multi-user supervision pages, based on industrial PC Server compact, fanless, 2.0 GHz Quad-Core with pre-installed web application or in Virtual Machine / VMware version.
Cloud BOX is a system capable of receiving, storing on a database, displaying data, events of and history of connected devices on web pages in graphical mode and is accessible through customizable web pages offering a Web Scada service of the Cloud- IoT type.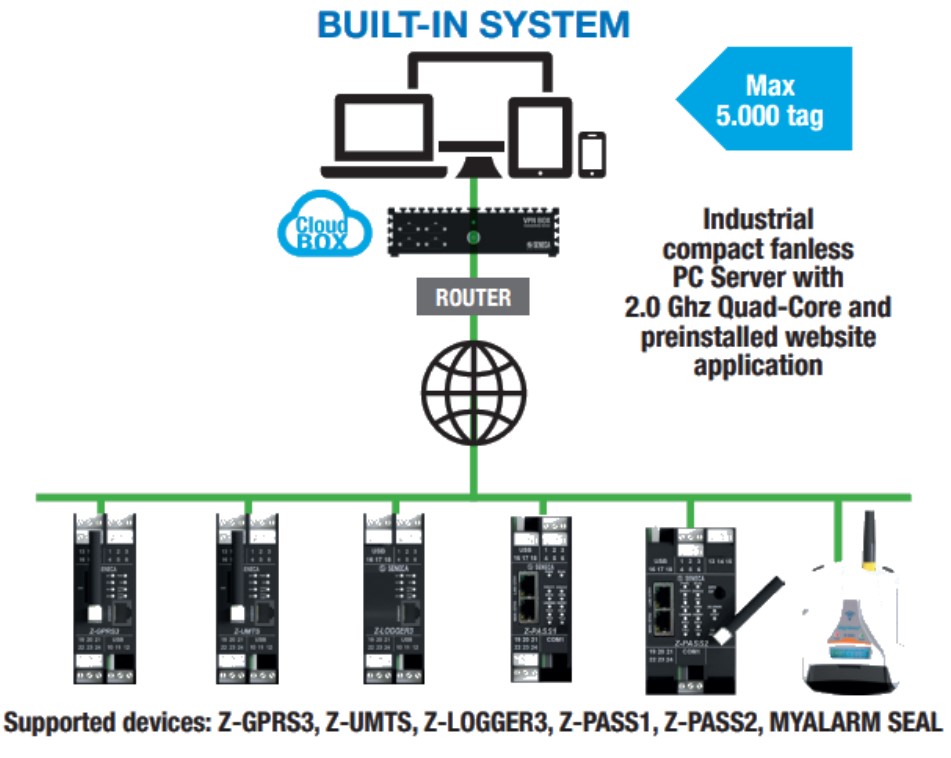 MYBOAT-CLOUD
MyBoat, monitoring unit for boats, relies on a multi-user and multi-level Cloud service differentiated according to user types (administrators, maintainers, guests). Data access is based on a Cloud service offered by SENECA. With the purchase of the product is included free subscription to the service for the first two years from the date of activation. The Cloud service works in synergy with the immediate consultation of data thanks to a practical use both from mobile app and HTML5 Web browser. With the free app MyBoat by SENECA you can monitor your boat on the move, check the status of sensors and receive push notifications or SMS in real time in case of alarm.