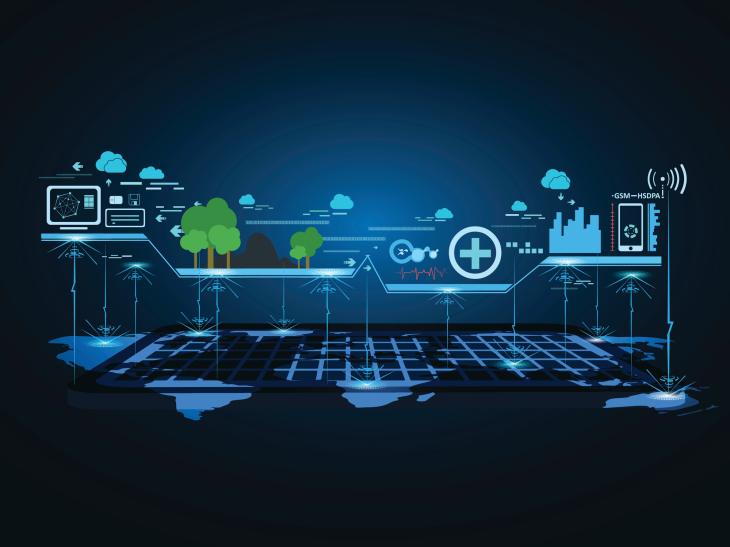 https://blog.seneca.it/wp-content/uploads/2020/05/iot-gw.jpg
The IoT Gateway market is a complex and constantly evolving market with hundreds of technologies and players and tens of thousands of models.It is worth $2.6 billion (2017 estimates) with an estimated average growth rate between now and 2023 of 16.9%. The models on the market have multiple common interfaces such as Wi-Fi, Wirless LPWAN technologies (e.g. LoRa), Ethernet / Industrial Ethernet, Serial, Fieldbus, 3G/4G/5G. There are also many types depending on the execution and installation, there are in fact compact, embedded, modular, panel, tabletop, rugged/industrial, office models.
What is meant by Gateway IoT?
An IoT gateway is a physical device or software program that serves as a connection point between Cloud platforms, controllers, sensors and intelligent devices. All data that moves to the Cloud, or vice versa, passes through the IoT gateway, which can be a dedicated hardware device or software program. An IoT gateway can also be defined as an intelligent gateway or control interface. At its most basic level, the IoT gateway facilitates connections between different data sources and destinations. IoT gateways are emerging as an essential component for building robust IoT networks and increasing computing power in M2M (machine-to-machine) Cloud and Edge computing scenarios.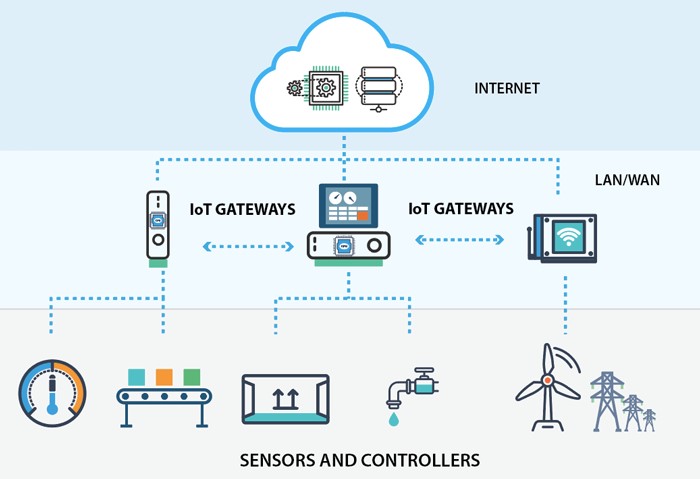 SENECA IoT Gateways connect new and legacy systems and facilitate a secure and uninterrupted data flow between peripheral devices and centralized servers. Gateways establish two-way communication between the field and supervision, as well as offering data processing and storage capabilities to provide services, even with secure VPN connections, and to manage field devices in real time.

The range currently includes 6 devices (R-KEY, Z-KEY, Z-KEY-WIFI, Z-KEY-MBUS, Z-PASS1, Z-PASS2) able to extend the extension of the networks and allow the passage of process data between different levels of the communication architecture. They are industrial and robust devices, galvanically isolated, with ac/dc switching power supply (10..40 Vdc; 19..28 Vac) andwide operating temperature range (up to -20..+70°C).
| | | |
| --- | --- | --- |
| | KEY Series | PASS Series |
| Ethernet ports | Max 1 | Max 2 |
| Serial ports | Max 2 | Max 3 |
| Tag | Max 500 | Max 2000 |
| ModBUS Gateway | Yes | Yes |
| Cloud platforms support | Yes | Yes |
| Remote Asssistance / VPN Support | No | Yes |
| Cryptography | No | Yes |
| Datalogging | No | Yes |
| Built-in I/Os | No | Yes |
| Modem / GPS | No | Yes |
Short comparison KEY Series – PASS Series
The KEY Series
The KEY Series entry level models are multifunctional devices that operate as ModBUS gateway, ModBUS shared memory, transparent Gateway / Serial Device Server, serial sniffers and systems that can be integrated with the SENECA CloudBOX platform (and with the possibility of sending data to Cloud platforms supporting http post protocol), Access Point / Station (in the Wi-Fi model).
The KEY series gateways support up to 8 Modbus TCP IP client connections and 10 simultaneous Modbus TCP Server connections.
The range includes models with 1 x 10/100 Tx Fast Ethernet port and 1 or 2 configurable serial ports (RS232/RS485). The gateways perform Master/Slave conversion from/to ModBUS RTU, ModBUS ASCII, ModBUS TCP-IP, M-BUS protocols. The configuration is particularly flexible through Web Server, apps and accessory tools to configure tags and scan the communication network.
The Z-KEY-WIFI model includes an integrated 2.4 GHz WiFi a/b/g/n module. The WI-FI connection can be used in addition to Ethernet connectivity to extend the acquisition system (Station) or to create a local communication network (Access Point). The connections from Ethernet port and Wi-Fi are totally independent.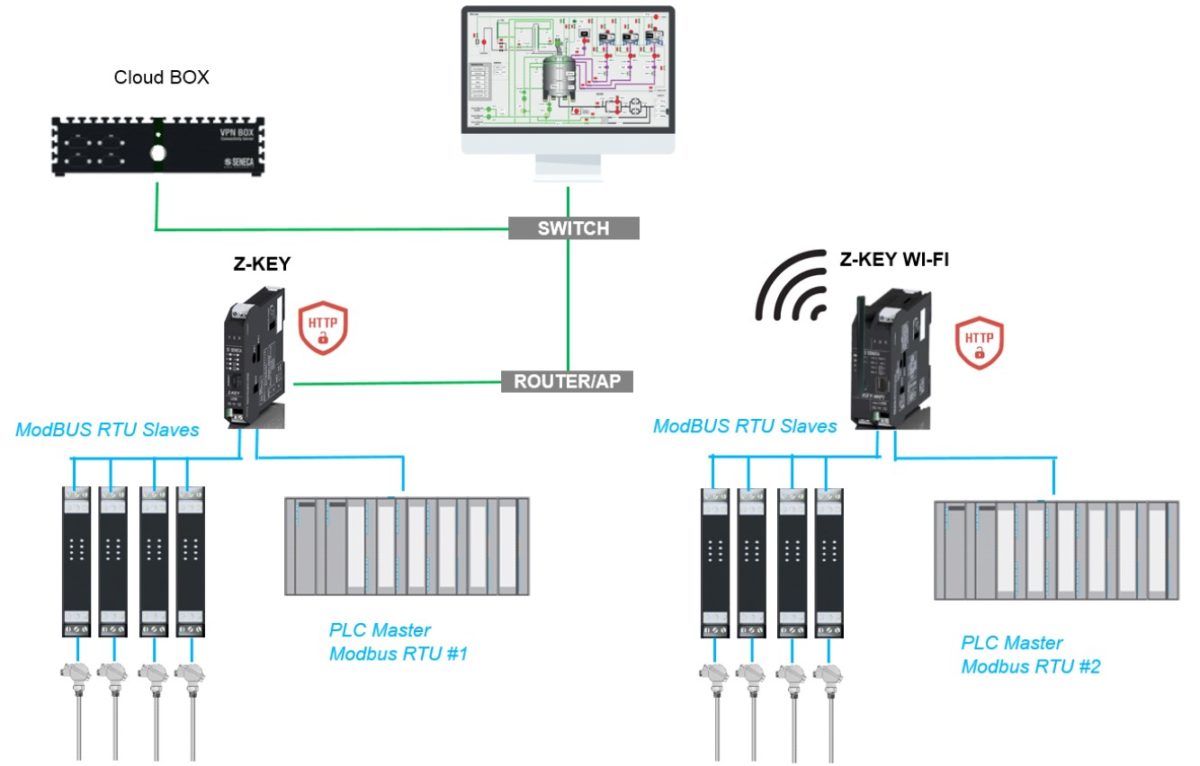 The PASS Series
The advanced Z-PASS1 / Z-PASS2 gateways/routers are definitely a more advanced networking solution. They are also a range of multifunctional devices that operate as industrial gateways, serial device servers, VPN remote assistance devices, data loggers and 3G+ / 4G routers (Z-PASS2 model). They can manage up to 32 clients, making them ideal for industrial and IoT/Cloud applications. Z-PASS devices have onboard digital I/O for security interlock management, connection management, VPN connection signalling and general purpose.
Equipped with 2 Fast Ethernet ports (manageable in Switch and LAN/WAN mode), 3 serial ports and 1 USB host 2.0 port, PASS gateways support ModBUS TCP Server, ModBUS RTU Master /Slave, FTP / SFTP Server, HTTP / HTTPS server, OpenVPN, OPC UA, MQTT SSL. Z-PASS2 also performs VPN / Tunnel, 3G+ or 4G router / communication functions.
Z-PASS1 and Z-PASS2 are integrated both in the LET'S platform where it can support Point-To-Point (remote assistance) and Single LAN (remote control) connections and in the Cloud BOX system for supervision and data centralization. In both systems it can rely on both physical and virtual servers.