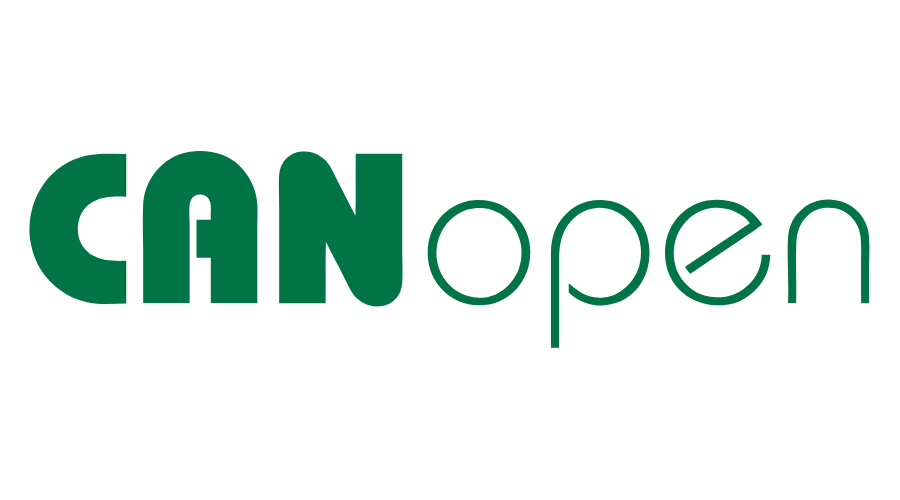 https://blog.seneca.it/wp-content/uploads/2020/04/canopen-vector-logo.png
With about 2 billion chips with CAN controllers sold since 1989, the Italian market is the third largest European market for CANopen devices after Germany and Switzerland and boasts about 50 companies affiliated to CiA (CAN in Automation). The winning choice of CANopen in the OEM, automotive and embedded sectors is based on a standard communication system, "Low Cost" technology, efficient and open (22 chip manufacturers, over 300 device and system manufacturers, open specifications). CANopen also offers high levels of noise immunity, robustness, redundancy, fail-safe, determinism (probability of undetected error < 10-13) and flexibility (application profiles for different classes of devices).
Until 1999 CANopen was standardised by the CAL specification (CiA DS-201 – DS-207), after which the CiA DS-301 reference specification still in force today was issued. CANopen is currently the leading communication technology in embedded and in-car networks. But it is also a generalist industrial bus because it offers great configuration versatility and is used in many fields from medical to military, from marine to public transport, building automation, packaging, building automation, plastic, textile, IC production, elevator control systems, rail vehicles and various types of machines (e.g. printing, beverage dispensers, shipbuilding). Thanks to the harmonizing role of CiA), the development of CANopen involves "democratically" a wide base of manufacturers and users. This protocol has proven to be efficient and low cost with plug&play functionality and is characterized by a flexible approach guaranteed by the so-called application profiles. CANopen presents a flexible but deterministic communication: conflicts are resolved by means of non-destructive Bit Arbitration multiple access control. In addition, it supports both the producer-consumer and client-server communication model, since it is included as a basic technology in many low-cost components,
| | |
| --- | --- |
| Promoter | CiA (CAN in Automation), www.can-cia.org |
| Open Specs | 22 chip manufacturers, over 300 device and system manufacturers, open specifications |
| Year of foundation | 1995 |
| Cycle time | <1 ms (256 digital: 16 nodes with 16 I/O); 5 ms polling @ 1 Mbps (128 analog: 16 nodes with 8 I/O) |
| Transfer of a 128 byte 1 node block | <2.5 ms |
| Access procedure | Master/slave, point-to-point multi-cast, multi-master |
| Topology | Trunk line, drop line |
| Standard | CiA DS301, DS40x EN 50325-4 |
| Distance | From 25 to 1000 m (depending on speed) |
| Data rate transmission | From 10 kbps to 1 Mbps |
| Max. number stations / nodes | 127 |
| Electric interface | Twisted pair, signal and power optional (physical medium) |
| Data transfer size | Variable message 8 bytes |
| Arbitrage policy | Carrier Sense Multiple Access; Non Destructive Bit Arbitration |
| Error control | 15 Bit CRC |
| Diagnostic | Error check and emergency messages |
CANopen fact sheet
SENECA CANopen solution
Z-PC CANopen Series is a truly distributed I/O system based on IEC 61131 programming that does not require the use of couplers, controllers or repeaters for each communication line.
All modules have a CAN communication interface with speeds up to 1 Mbps and therefore ideal for acquisition and control of system signals on plants and/or machines where the distance between signals plays a fundamental role. The advantage of not needing an end-of-line coupler reduces the cost factor for small to medium installations.
The Z-PC CANopen I/O range complies with CiA 401 v.201 profile and IEC EN 61131-1 standard for digital inputs.
All EDS (Electronic Datashet) configuration files are available on the SENECA website. The modules can be integrated with third party master configurators and controllers / network managers, even on existing machines and installations. For this purpose SENECA has formalized its membership to the CAA (CoDeSys Automation Alliance), the organization of hardware manufacturers using the software CoDeSys (Controller Development System), one of the most popular IEC 61131-1 programming environments dedicated to industrial controllers.
Main features
DIN rail hook
Backplane for power supply and wiring
Insulation up to 1.5 kVac (3 to 6 ways)
Baud rate up to 1 Mbps
Very high precision analog inputs (0.01..005%) with the possibility to power up to 8 sensors
Response times per single channel from 20 ms (analog) to 1 ms (digital)
Baud rate and address configuration also via Dip-switch
Vac / dc switching power supply on the same hardware
Protocol switching (ModBUS – CANopen) on the same hardware (digital modules)